Interview with Jathedar Akal Takht, Giani Harpreet Singh
Interview with Amandeep Singh on the Akal Takht in the Modern Age
Resham Singh is a journalist who writes regularly in different news papers in Punjabi across North America. Before migrating to the USA, he was a teacher of Sikh Studies at Thai Sikh International School in Thailand for about 15 years.
Below he interviews Amandeep Singh who is himself an independent researcher who has authored two books in the past: Celestial Grace (a work of prose and poetry) published in 2010, and Akal Takht: Revisiting Miri in Political Imagination (published in 2018). He writes regularly both in English and Punjabi. His articles are published in Routledge Journal, Sikh Formations, Punjabi Journal Kaav Shastar and poems in the punjabi news paper 'Gurmukhi'.  Recently, he has also authored an introduction to the famous classic The Spirit of Oriental Poetry, that was authored by Puran Singh. He is the Director of Naad Pargaas USA, which is 501(c)3 non-profit organization dedicated to understanding Śabda tradition and Naam inspired universality.
Most recently he has collected and edited a volume of essays on Akal Takht, titled: Essays on Akal Takht: Tradition, History and Conceptual appraisals. These essays were authored in the last century by various Sikh scholars but have remained buried under the archives of libraries and anthologies of magazines and newspapers. This book is going to be released on March 05, 2022 at Mata Tripta Ji Gurdwara Sahib in Plymouth Michigan. 
~~~~~~~~~~~~~~~~~~~~~~~~~~~~~~~~~~~~~~~~~
Question: Sikh history and literature are an ocean with endless exploration. Of all of the subjects you could choose from, what attracted you to the Akal Takht? 
Amandeep Singh: I have always been thinking that as the supreme institution of Sikhs, Akal Takht is supposed to act as a beacon of light to guide temporal issues and offer a civilizational world view in any age. Therefore, for rediscovering the institutional significance according to the present age, there must be some theoretical discourse to relate historical reality of Akal Takht with the metaphysical idea behind its inauguration. I believe that no religious thought could productively flourish in isolation of its historical reality and no historical reality can render a meaningful idea in the vacuum of a conceptual discourse. Akal Takht is both an historical reality and metaphysical entity.  Nevertheless, Sikhs are yet to realize its higher meaning beyond routine power struggles of (Sikh and Punjabi) politics. So, as a Sikh author, I believe it is perhaps my indispensable responsibility to rediscover its institutional significance in light of Sikh doctrines.  
Question: I understand you went to India for its publication, Can you tell us about your journey to get to discover these essays? 
Amandeep Singh- Honestly speaking, when I started my journey to dig out some serious academic material, I was very surprised to find a huge vacuum of such material, especially in the Western academic discourses. Take for example, The Oxford Handbook of Sikh Studies published in 2014, contains a total of fifty-one essays by different scholars, including eight specifically on Institutional Expressions, yet none is on the institution of Akal Takht. So, on discovering this vacuum, I turned towards authors of Punjab. Although, I found some books written by authors like Harjinder Singh Dalgeer, Balkar Singh, Roop Singh etc., nonetheless, these books could only render an account of Sikh history, or hukamnamas issued from Akal Takht etc. Once again my interest in search of conceptual discourse was not content with the material that surfaced. So, I started looking deeper for essays, articles, scholarly papers etc. and to my fortune by 2017, I discovered a few essays that were authored by Kapur Singh, Gurbhagat Singh and Jasbir Singh Ahluwalia. I found these essays engaging with my interests, offering theoretical explanations to the institution spirit of Akal Takht. This then encouraged me to develop some philosophical perspective on Akal Takht and I took this journey forward to author my first book on the subject in 2018, Akal Takht: Revisiting Miri in Political Imagination (available on Amazon.com and Amazon.in).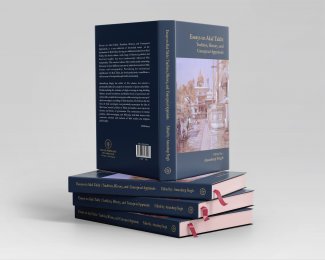 However, I voraciously continued to read further on this subject and sought to dig deeper in search of more relevant texts. I must say that I was fortunate enough that I had a guide and teacher Prof. Jagdish Singh, who helped me to dig out the seventeen essays that have been complied and presented in this upcoming book- Essays on Akal Takht- Tradition, History, and Conceptual Appraisals. I cannot thank him enough for discovering these essays that are now presented before the readers. Many of these essays have been collected from diverse sources, including books, Magazines, Journals, and newspaper articles.  
Question: Can you give us a short background about the various Sikh authors compiled in the book? 
Amandeep Singh- The perspectives developed by different authors from diverse backgrounds enumerate many ways to appreciate the institutional significance of Akal Takht. Most authors are academic scholars, historians, and political theorists. Sirdar Kapur Singh was a renowned theologian and thinker who was a bureaucrat of colonial and post-colonial India, before he became a politician. He has authored several books on religion, culture, and political philosophy. Jasbir Singh Ahluwalia, Gurbhagat Singh, Bhupinder Singh, and Davinder Singh are important scholars of Sikh Studies, who have contributed insightfully towards academic discourses of this age. These scholars have also authored books and essays on religion, critical theory, and philosophy. Surjit Singh Gandhi, has presented a perspective on historical conditions in which tradition of Sarbat Khalsa flourished and declined, while Karak Singh as an historian suggests some measures to resurrect the institutional significance of Akal Takht. Sukhbir Singh has presented popular political views and thereby places institutions as a signifier of routine political processes. Lakhvir Singh is a young scholar, pursuing his doctorate in philosophy. Drawing upon Foucault's term 'conduct of conduct', he presents an interesting perspective on undercurrents of socio-political backgrounds that condition the nature of Sikh politics.
In short, the background motivations and assumptions of scholars are kneaded in the perspectives presented in these essays.
Questions: What stands out to you as the most powerful moments or discoveries during this research journey? 
Amandeep Singh- Scholarly perspectives many times are quite different from the common popular narratives in socio-cultural discourses. This is primarily because scholars tend towards going behind the thick layers of everyday practices that overshadow our commonsensical approach. Take for example, the routine narratives among Sikhs approach the domain of Miri-Piri to propose some kind of marriage between the spirituality and temporality. However, when we read through the works of many scholars in this book, we can discover that both Miri and Piri are two independent domains of human life. In fact, at one occasion Kapur Singh contests that both these domains are actually antagonistic to each other. Such a claim is very different from the common perspective among Sikhs as Sikh politicians continue to draw a line of divide with secular ethics which propounds for a complete divorce between religion and politics. On the contrary traditional Indian theory of governance, while drawing its metaphysical connotation from Vedic philosophy proposes an internal marriage between both domains. Therefore, the socio-political narrative among Sikhs, in certain ways, is close to the Vedic philosophy, while Sikh scholars, interestingly, propose quite a different view on this. 
Therefore, the institutions of Akal Takht and Harimandir Sahib that represent temporality and spirituality in Sikh metaphysics are not in complete isolation or in complete union. They are two different domains and that is why we have a system of dual sovereignty of Guru Panth and Guru Granth. Taking reference from these scholars, I have developed this thesis further in the introduction of this book.
Question- Can you tell us about the upcoming event where your new publication will be released? 
Amandeep- The book will be released at Mata Triptaji Gurdwara Sahib, Plymouth, Michigan on March 05, 2022 from 10:00 AM to 1:00 PM.  We will live stream the event on YouTube channel Naad Pargaas USA. I will be delivering an introductory talk on the book and Prof Jagdish Singh, who is with us from Naad Pargaas, Amritsar, will deliver a lecture. We are also trying to approach an eminent Sikh personality to join us during the launch of the book.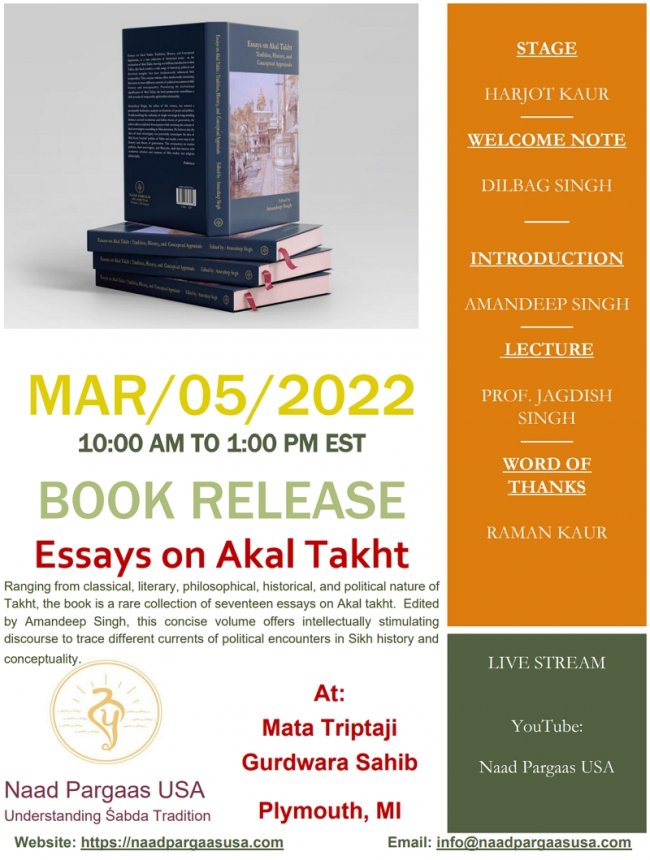 We would welcome members of the Sangat to join us through live stream (if not in person). Besides, I must mention that the book is available in India at Amazon.in and can also be ordered from Naad Pargaas, Sri Amritsar or from Singh Brothers, Sri Amritsar.  
Question- Is there any message you would like to leave the sangat with? 
Amandeep- Sikh Sangat has always been very enthusiastic to perform physically actionable forms of Seva. It is somewhat disheartening that there is negligible investment in intellectual pursuits thus far. Unfortunately, there is not a single world class university or research center of Sikhs that could potentially construct Sikh world view in the modern age. Nor do we have a world class library or publishing house to foster Sikh scholarship or promote scholarly interaction.  This I believe is because Sikhs have not invested (both intellectually and materially) adequately in developing a relationship with texts and textual knowledge. There are hardly any libraries in Sikh homes. How then can Sikh thought interact contemplatively in the modern age?
Naad Pargaas USA and Naad Pargaas Sri Amritsar are striving to extend these static boundaries so that Sikhs can engage intellectually with World thought. No religious tradition can otherwise flourish in the vacuum of this intellectual journey. Sikhs need to note that there is no professional office where intellectual research in philosophy, literary studies, art, religion, critical theory, aesthetics, ethics etc., can be produced. Almost every religious community has developed its own research centers in the modern world in order to foster practical pragmatics of religious thought. So, I would leave it there for Sikhs to introspect and think of developing a class of scholars who can productively refine our political and intellectual vision. History, otherwise, can truthfully remain uncanny towards our future generations.